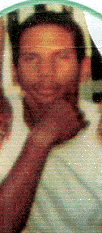 Robert Bolton
Age: 32
Height: 6'
Weight: 200lbs
Eyes: Brown
Hair: Black
Race: Black

Hobbies and Interests:
I love to read, play sports and work out.

Robert's Message to You:

"First and last termer seeking friendship to help get through these lonely days. Race, height, weight is not important. However, age must be 18 and over."

SnailMail Address:

Robert Bolton, J-99761
H.D.S.P.
B4-122Up
PO Box 3030
Susanville, CA 96127

or E-mail at FaPenPals@hotmail.com

**Please mention to Robert that you got his name from FA PenPals**


Click Here to go back to the main page.