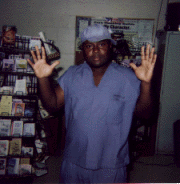 Raynell Gainey
Age: 29
Height: 5'8"
Weight: 181Lbs
Eye Color: Brown
Hair Color: Black
Race: Black


Hobbies and Interests

Weight Lifting, Sports, Movies, Reading, Writing Music, Most of All Spending Time with Someone Special.

Raynell's Message to You:

"ATTENTION!!!
This ad is intended to capture the heart of someone who understands the severity of solitude and loneliness. Someone who believes that what is on the inside is far more important than what is on the surface. I'm searching for anyone who likes to write, share ideas and feelings. Are you that person? Age and race are unimportant. My response is guaranteed. If you are looking for "A New Found Friendship" please write! Reach out and touch a lonely man. Again I answer all letters from anyone."

SnailMail Address:

Raynell Gainey, 521149
South Bay Correctional
B4-208
P.O. Box 7171
South Bay, FL 33493

or E-mail at FaPenPals@hotmail.com

**Please mention to Raynell that you got his name from FA PenPals**


Click Here to go back to the main page.