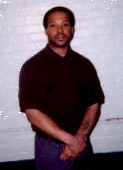 Randolph Harris
Age: 39
Height: 5'11"
Weight: 171Lbs
Hair Color: Black


Hobbies and Interests

Feeding the Prisoners, Listening to Jazz and Classical Music, Reading and Learning about God and the Lord Jesus Christ.

Randy's Message to You:

"My name is Randolph Harris and at this time I am incarcerated in a New York State Prison and until I can prove to the court that I am innocent of these false charges that have been put on me I will not be eligible for parole until the year 2016. When I was in society I was a Red Lobster Seafood Restaurant Chef's Assistant and I also was a part-time barber cutting hair and trimming beards and I also cleaned homes. Now in prison I work in the prison mess hall feeding the prisoners and part-time I cut hair and trim beards. I loved to wear nice clothes when I was in society and I love to make people feel good. I like to dance, listen to Jazz and Classical music and my favorite thing to do is watching and doing gymnastics. I also love being around and watching beauticians in the beauty shops doing people's hair.
In prison I am trying to make myself a better more positive person for society . While I am here in prison I watch myself become the man that I am today.
I am looking for strong minded and positive pen pal friends who are willing to challenge me and the challenge is that you give me one fair chance to prove to you that I am a good positive person and a good positive friend to have. I am also looking for a down to earth God fearing wife."

SnailMail Address:

Randolph Harris, 95A7203
Green Haven Correctional Institution
P.O. Box 4000
Stormville, NY 12582

or E-mail at FaPenPals@hotmail.com

**Please mention to Randy that you got his name from FA PenPals**


Click Here to go back to the main page.