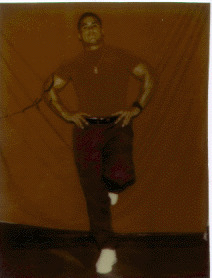 Rick Morad
Age: 32
Height: 6'
Weight: 230lbs
Eyes: Brown
Hair: Brown
Birthday: Nov. 6

Hobbies: I love to read, write, cook and play all sports.

Rick's Message to You:

"Hello! I'm a lonely Puerto Rican who has lived in the Bronx and Manhattan in New York. I'm looking for a friend ( a companion, if you will) to fill my lonely days with laughter and beauty. I"m athletic with a big heart and a great sense of humor; a man who can definitely see past the surface into the beauty that lies deep inside of things, especially a great woman. Age and race is not important, though a beautiful character and a true heart is. Come, take a risk and write. I aim to show you that smiles, laughter, and friendship can come at the end of a pen and inside an envelope."

Snail Mail Address:

Richard Morad 95A3318
Green Haven Correctional Facility
Drawer B
Stormville, New York 12582-0010

or E-mail at FaPenPals@hotmail.com

**Please mention to Rick that you got his name from FA PenPals**


Click Here to go back to the main page.