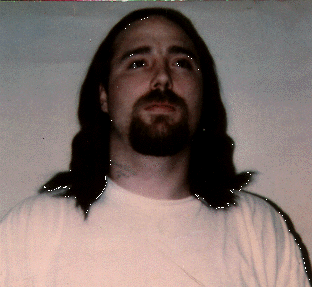 Roger Nichols
Age: 34
Height: 6'2"
Weight: 220Lbs.
Eyes: Light Green
Hair: Brown
Race: White

Hobbies & Interests

Art, Music, Fishing, Sports and Reading.
Roger's Message to You:

"Lost, lonely, dark, demented? That's me, or at least what I've been told by people who don't know me. What or who I actually am is just a man that's made a mistake or two, (or three), who is all alone in this world and could really use a friend I can talk to! Or at least one who has the ability to touch their forehead with their tongue! (smile) Age? Race? Size? Gender? Don't matter. Friends come in all shapes and sizes so please write! (Yes you!) I hope to hear from you soon, but until then,
Keep Smiling!
Roger Nichols."

SnailMail Address:

Roger Nichols 56243
C-2 #229
E.D.C.F.
P.O. Box 311
El Dorado, KS 67042

or E-mail at FaPenPals@hotmail.com

**Please mention to Roger that you got his name from FA PenPals**


Click Here to go back to the main page.