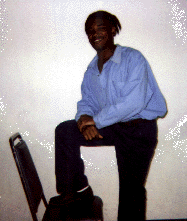 Raymond Payne

Age: 26
Height: 5'9"
Weight: 170 Lbs
Eye Color: Brown
Hair Color: Black
Race: Puerto Rican



Hobbies and Interests: Collecting Exotic Lizards and Birds, Horse Back Riding, Scuba Diving.

Raymond's Message to You:

"If you've got the taste for some Latino Chocolate then this will be a sweet but strong bite! I'm Ray and I send you my warmest greetings! To best describe myself, I'm single, adventurous, excellent sense of humor and extremely funny. Likes are zoos, beaches, limo cruising and tennis. Turn ons are eyes, gentle hands and candle light romance. Music is salsa, merengue, hip hop, modern rock, soul, and jazz. I'm from West Hollywood, California. If you are a mature female age 18-55 I'm seeking friendship. Race, form, fashion unimportant. Must possess sweetness, feminine qualities and patience. Kids OK! Send photo by choice."

SnailMail Address:

Raymond Payne, K-21529
44750 60th Street West
Lancaster, CA 93536-7620

or E-mail at FaPenPals@hotmail.com

**Please mention to Raymond that you got his name from FA PenPals**


Click Here to go back to the main page.