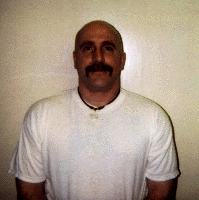 Steve McMillan
Age: 39
Eyes: Blue/Green
Hair: Brown, When I Don't Shave
Height: 5'10"
Weight: 192lbs.
Race: White

Hobbies: KickBoxing, Camping, Cooking, Weight Lifting, Drawing, Listening to 70s, 80s, & 90s Rock Music.

A Note From Steve:

""Greetings and Salutations!
I am looking for friendly correspondence from one and all to share time with and possibly more. I am a Wiccan who enjoys camping and communing with nature. I hold a blackbelt in Hop-Ki-Do and enjoy kickboxing. I have been incarcerated four years and only have a few to go and welcome any new emotional or spiritual stimuli. I am an avid reader with many varying interests ranging from history and philosophy to sci-fi and most things in between. Come pique my interest and satisfy your own curiosity. All letters will be answered."

Snail Mail Address:

Steve McMillan, 52959
E.D.C.F. 3-2 #123
P.O. Box 311
Eldorado, KS 67042

or E-mail at FaPenPals@hotmail.com

**Please mention to Steve that you got his name from FA PenPals**


Click Here to go back to the main page.