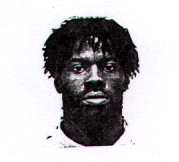 Steven G. Williams
Age: 43
Weight: 208 lbs.
Height: 6'4"
Eye Color: Ebony Brown
Hair Color: Black
Race: Black
Hobbies: Reading Non-Fiction Literature, Studying Human Nature, Music, Art, Sports

Steven's Message to You:

"Will answer all sincere introductory letters. Remember photos speak a thousand words. ISO congenial relations and friendship with mature, intelligent, down-to-earth women between 18 and 60 as pen pals. All ethnic groups and races are welcome."
SnailMail Address:

Steven G. Williams J-61477
Folsom State Prison
B1/A5-19
P.O. Box 715071
Represa, CA 95671-5071

or E-mail at FaPenPals@hotmail.com

**Please mention to Steven that you got his name from FA PenPals**


Click Here to go back to the main page.