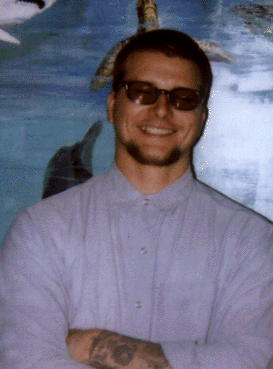 Travis Britt
Age: 31
Height: 6'1"
Weight: 180Lbs
Eye Color: Green
Hair Color: Light Brown
Race: White

Travis' Message to You:

" Hi!
My name is Travis Britt and I would like to tell you a little about myself. I am 31 years old, 6'1", 180 lbs. with light brown hair and green eyes. As you can see I am currently incarcerated and that is a major bummer, but I really enjoy being adventurous, exciting, taking life to the extreme and sometimes my way conflicts with the law. I'm a Capricorn, my lucky number is two, my favorite color is purple and I love Rocky Road Ice Cream. I'm really into Rock N Roll Music, horror movies and leather mini skirts. I'm no saint by any standard but I do have the heart of an angel and I'm really looking for a good woman to help me fill the lonely ache in my life. So if you are a blonde or brunette, short or tall, if you have brown eyes or green eyes, if you like tatoos and harleys or horseback riding and snow skiing or romance and poetry then I would very much like to hear from you. I enjoy meeting all types of women. Your age is not important. Your looks are not what concerns me. If you have a big heart and a desire to write a bad boy then you are what I am looking for.
I am not actually at a computer myself therefore my response may be delayed and is subsequently transcribed via a third party. If you wish to give your address so I can write directly I assure you that this would be a more effective use of my resources and also entirely safe as I am a Puppy-Dawg! (smile).
I really need someone to write.
Sincerely,
Travis"

SnailMail Address:

Travis Britt, P-41557
D9-221
Pelican Bay State Prison
P.O. Box 7500
Crescent City, CA 95532

or E-mail at FaPenPals@hotmail.com

**Please mention to Travis that you got his name from FA PenPals**


Click Here to go back to the main page.