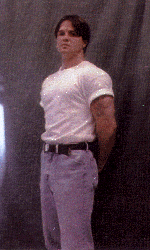 Tommy Gaultney
Age: 29
Height: 5'8"
Weight: 160Lbs
Hair: Brown
Eyes: Green
Race: White


Tommy's Message to You:

"Free to Good Home
White male, brown hair, green eyes, barks a bit, nibbles a little, but never bites, 160lbs, 5'8", 29 years old, loves to laugh, enjoys music ( most types), can be somewhat hard headed at times. But in my defense, what male being isn't?(smile) If you have an open mind I'd love to hear from you. Please speak freely. Any questions, any subject, I'll respond. All I'm asking for is an opportunity to share myself, get to know you and see where it can lead. I hope to hear from you soon. Write me."

SnailMail Address:

Tommy Gaultney, 51213
EDCF
P.O. Box 311
El Dorado, KS 67042

or E-mail at FaPenPals@hotmail.com

**Please mention to Tommy that you got his name from FA PenPals**


Click Here to go back to the main page.