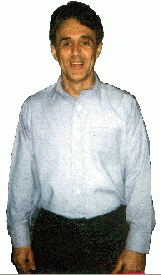 169236 A329
P.O. Box 710
Keen Mountain, VA 24624-0710
April 25, 1998

Everyman, Everywoman, Everywhere
Philanthropic and Charitable Individuals
Agencies, Groups, and Organizations
Worldwide

SUBJECT: Request For The Gift Of A College Education



My name is Thomas Ray Hill, Jr. I am a serious student asking for financial aid to complete my bachelor's degree and possibly beyond. I am an inmate in a state prison. I completed two associate degrees before Pell Grants were taken from state and federal prisoners.

My goal, provided I find the funds, is to complete my undergraduate work through a distinguished and major university's "College Program For The Incarcerated." The cost for the current year is $1365.00 for 16-20 quarter hours, through June 30, 1998. This comprehensive fee increases incrementally from year to year, and it covers all expenses associated with registration: tuition, textbooks, supplies, and lesson postage. For me to complete my junior and senior years, I estimate it will take a minimum of 96 quarter hours. This will take at least five years at the recommended no more than 20 quarter hours per year.

All financial transactions will be between the gift-givers and the university, including any refunds for any reason. I will thoughtfully utilize and graciously appreciate any and all gifts given, any and all amounts. Returns of any surplus funds, upon completion of the degree or withdrawal for any reason, will be worked through by the gift-givers and the university. I will provide a verifiable record of gifts received with names withheld as requested.

If and when any sincere altruists contact me at the Keen Mountain address, I will furnish the name only--for independent verification--of this fully accredited university. The community college I graduated from in 1994 will provide bona fide givers an official transcript upon my request. Most importantly, I will do whatever the law and would-be-supporters require to guarentee total, full-time assurance that this endeavor will be completely on the square, genuinely rewarding, and more than worthwhile. My foremost responsibility will be to ensure that my hard work lives up to unbridled, farsighted kindness.

Thomas R. Hill, Jr.

or E-mail at FaPenPals@hotmail.com

**Please mention to Thomas that you got his name from FA PenPals**


Click Here to go back to the main page.