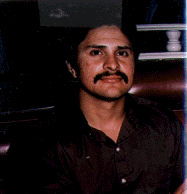 Tony Lopez
Age: 38
Height: 5'7"
Weight: 175lbs
Eyes: Brown
Hair: Brown
Race: Mexican

Hobbies & Interests
Chess, Concerts, Beaches, Dancing.


Tony's Message to You:

"Looking for flirtatious, adventurous, free spirit, open minded, a naughty side, confident, independent women for friendship and more.... I'm easy going, witty, athletic. I enjoy sports, working out, music, reading, kids, animals, movies, outdoors."

SnailMail Address:

Tony Lopez, E-06271
D6-204
Pelican Bay State Prison
P.O. Box 7500
Crescent City, CA 95532

or E-mail at FaPenPals@hotmail.com

**Please mention to Tony that you got his name from FA PenPals**


Click Here to go back to the main page.