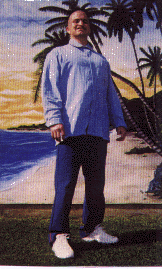 Trent Wacker
Age: 27
Eyes: Green
Hair: Brown
Height: 5'6"
Weight: 160lbs.
Race: White

Hobbies: Staying Physically Fit and Watching Sports.

Trent's Message to You:

"Looking for a little sunshine through these dark and cold walls they call prison and things of interest during these lockdown times. I'm a very upbeat person with a good sense of humor. I have dreams and hopes and know how to keep a smile on mine and others faces. It just comes slow at times in a place like this. So if you get the urge to shed a little light my way, fear not, I do have a lot to say."

Snail Mail Address:

Trent Wacker J-17543
A4-206
Pelican Bay
Post Office Box 7500
Crescent City, CA 95532

or E-mail at FaPenPals@hotmail.com

**Please mention to Trent that you got his name from FA PenPals**


Click Here to go back to the main page.