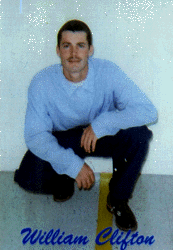 Wil Clifton
Age: 26
Height: 6'1"
Weight: 190Lbs
Eye Color: Brown
Hair Color: Brown

Hobbies and Interests

Girls - Girl Conversation, and Writing Girls! (smile)

Wil's Message to You:

"Attention Ladies!
My name is Wil and I'm in desperate need of your conversation! I'm currently incarcerated in a Northern California prison and therefore my options are limited in my conversation, restricted to those around me. Sadly none of them are female! (smile)
I've got two years left and would enjoy conversing with any of you who are interested. I'll return all replies and we'll take it from there. I've enclosed a photo and my stats. Due to my circumstances I don't have access to a computer so snail mail is preferable. Sorry. So until I hear from you then...
Sincerely,
Wil."

SnailMail Address:

William Clifton, J-70671
B7-104
C.S.P.-SAC -Folsom
P.O. Box 290066
Represa, CA 95671

or E-mail at FaPenPals@hotmail.com

**Please mention to Wil that you got his name from FA PenPals**


Click Here to go back to the main page.