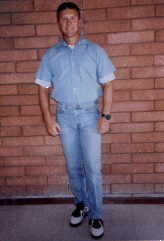 W. Lynn Wendel
Age: 40
Height: 6'2"
Weight: 195 Lbs
Eye Color: Green
Hair Color: Blonde
Race: White

Hobbies:

Architecture, Reading, Writing, Traveling, Movies, Meeting New People & Cultures, Languages, Expanding the Mind & Soul.

Lynn's Message to You:

"I am a man of great passion and I will "NOT" let these prison walls dim my spirit or my love for life and people! I still seek the best things in life: Friendship, Love, Happiness, Success, Light & Growth. I'm intelligent, kind, understanding, easy to talk to, tender, athletic, and passionate. Looking for an enjoyable and meaningful experience with a lady...Adventurous and fun. All Races Welcome ."

Snail Mail Address:

W. Lynn Wendel, 59150
Arizona State/Meadows 10-C-9
Post Office Box 3300
Florence, AZ 85232-3300

or E-mail at FaPenPals@hotmail.com

**Please mention to Lynn that you got his name from FA PenPals**


Click Here to go back to the main page.