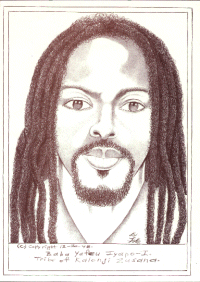 Yafeu Iyapo-I S/N L. Alexander
Age: 42
Height: 6'3"
Weight: 230 Lbs
Eye Color: Brown
Hair Color: Red
Race: New African

Hobbies: Student/Teacher of African history, Culture, Religion. Advanced writer, Beginner Artist.

To view Yafeu's artwork click here.

To read Yafeu's writing click here.

Yafeu's Message to You:

"Question? When is a picture?
worth a thousand words?

Answer? Enter the captive chambers,
of Baba Yafeu Iyapo-I. And seek
to become correctly Re-connected.
To the Eternal Foundation- stone's. of
Divine Law, order, Truth, Justice, victory,
Freedom, and Peace.

I Remain,
Baba Yafeu Iyapo-I
Isaiah 61:1"

Snail Mail Address:

Yafeu Iyapo-I S/N L. Alexander, B-72288
D6-209
Pelican Bay- SHU
P.O. Box 7500
Crescent City, CA 95532

or E-mail at FaPenPals@hotmail.com

**Please mention to Yafeu that you got his name from FA PenPals**


Click Here to go back to the main page.